New York's Swingtime Big Band is known for its creative and engaging concert programming. We have proudly presented brand new programs for each return engagement, and audiences look forward to our imaginatively themed concerts, spanning all seasons on the calendar! Below are some examples of thematic programs we've performed in recent years.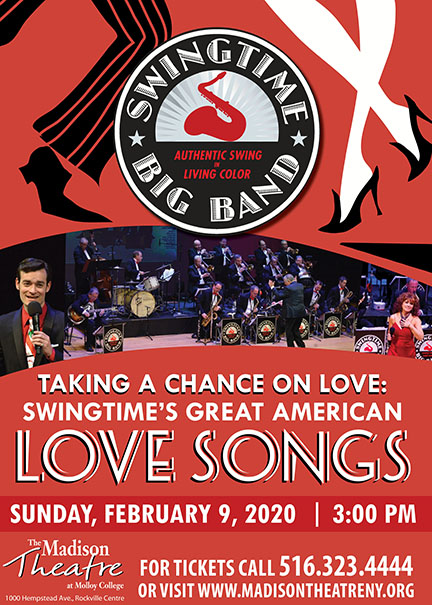 Taking a Chance on Love: Swingtime's Great American Love Songs

For nine consecutive years, Swingtime has presented a brand new program of love songs to celebrate Valentine's Day at The Madison Theatre. Each program showcased a different selection of amorous classics from the Swing Era and the Great American Songbook, and previous program titles include:

'In the Mood' For Love
A Fine Romance
Let's Fall in Love
Our Love is Here to Stay
Easy to Love: A Swingtime Big Band Valentine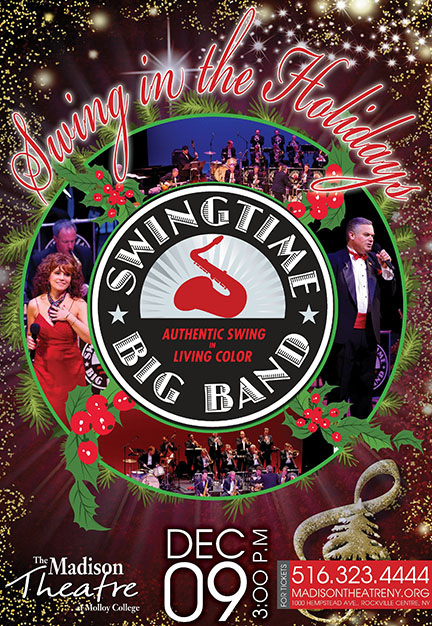 Swing in the Holidays!

Chock full of joyful seasonal classics from the Great American Holiday Songbook, the highlights of this program include our own Nutcracker Suite (showcasing iconic big band arrangements by Duke Ellington and Les Brown) and the bold, brassy Old World Christmas carols recorded by Stan Kenton.  We round things out with some swinging Chanukah tunes, plus a special commemoration of Frank Sinatra's December birthday, as well! Previous program titles include:

Home for the Holidays
Swingin' the Holiday Classics
A Swingtime Big Band Christmas Card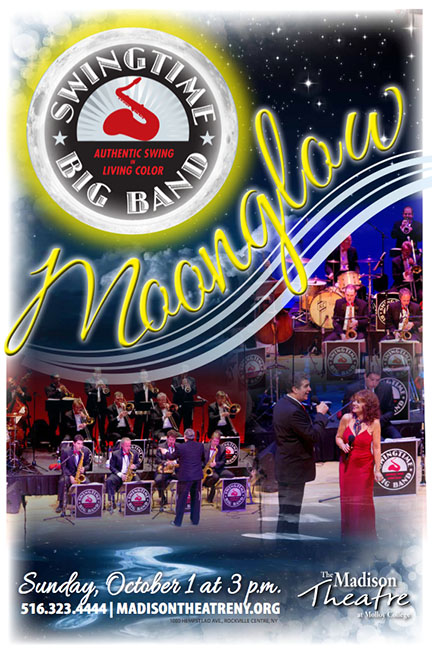 Moonglow
That shining globe in the night sky has inspired artists, writers and musicians since time began, and the Lunar lyrics and melodies from the Great American Songbook always resonate with people to make us smile. In commemoration of the 50th Anniversary of the Apollo space program and the US moon landing, Swingtime takes the audience into orbit with this swingin' harvest moon celebration!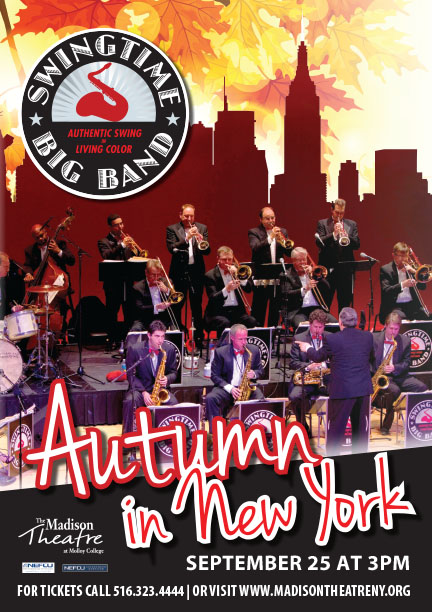 Autumn in New York

A celebration in song of both the fall and this city we love—New York, NY! To represent autumn, we feature songs with the obvious references to leaves, changing weather and the fall months, plus we also examine the autumn holidays and numerous other elements that make this season so distinctive.  And—to recognize "the city so nice, they named it twice!"—we present an assortment of music written in tribute to our amazing metropolis, since swing so perfectly captures the vitality and energy of New York City.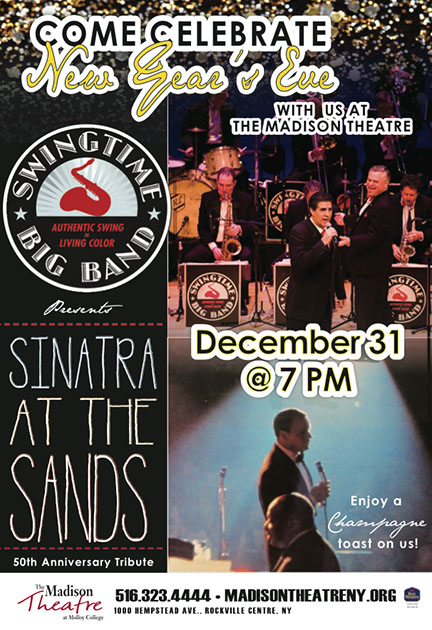 Sinatra at the Sands – Live!

For our sold-out New Year's Eve show at the Madison Theatre, we celebrated the Sinatra centennial and the 50th anniversary of perhaps the finest live album Frank Sinatra ever recorded. Swingtime brought the Sands Hotel to life on Long Island, recreating the music of Frank Sinatra, Count Basie and Quincy Jones from the days when "Old Blue Eyes" and his collaborators were all at the peak of their musical powers!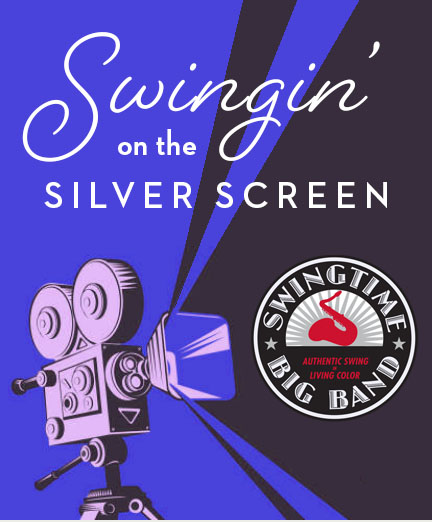 Swingin' on the Silver Screen

For Swingtime's recent debut on the Tilles Center's Summer 2020 Drive-In Concert series, we performed a special program harkening back to the classic era of Hollywood and drive-in movies, spotlighting the films which introduced or featured these timeless melodies and lyrics!  And since the concert took place on the 75th Anniversary of VJ Day (Aug. 14), we also featured popular hits written and/or recorded in 1945, along with Big Band classics from the WW II era and a medley of Armed Forces theme songs!
Summer Concert programs
Every year, Swingtime designs a new themed summer program, often celebrating the 100th birthdays of iconic artists who created this music, and including a salute to our Veterans and to active duty service people. Our busy schedule allows us to perform these entertaining shows many times throughout the summer, and here is a list of our programs from recent years.
2019: NAME That Tune! — Big band classics inspired by names of people, characters and places.
2018: Something Borrowed, Something Blue — Music based on 'borrowed' material, combined with songs containing 'Blue' in the title or based on the Blues. 
2017: Big Band Broadway — Exploring the Broadway roots of The Great American Songbook.
2016: By George! – Big Band Gershwin — Showcasing the music of George and Ira Gershwin.
2015: Double Centennial: Frankly Inspired/Shades of Gray — Celebrating the 100th birthdays of the immortal Frank Sinatra and composer/arranger extraordinaire, Jerry Gray.
2014: Celestial Swing — 'Heavenly' songs inspired by the sun, moon and stars.
2013: On the Road — Music focused on various cities, destinations and modes of transportation.
2012: Swingin' the Classics — Big Band hits based on melodies from Classical and Folk music.
2011: Jukebox Saturday Night — Combining the greatest hits & hidden gems of the Big Band years.
2010: Themes Like Old Times — Spotlighting the theme songs of the greatest bands of the Swing Era.
2009: Happy Birthday, Benny! — Celebrating Benny Goodman's 100th birthday.
2008: Back to Basie — Music from all six decades of Count Basie's storied career as a bandleader.